Best Erotic Romance 2014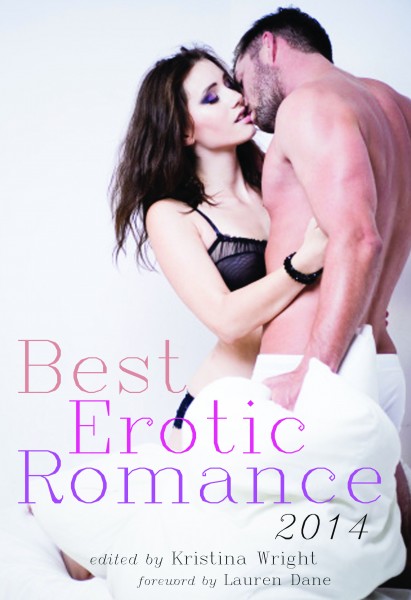 This decidedly blissful and romantic anthology is filled with couples in every stage of love and lust who simply can't get enough of each other. Best Erotic Romance 2014 is naughty and nice, and has both the heat and the sweet. Editor Kristina Wright has developed a stellar reputation with romance readers and fans, winning the coveted Golden Heart award. Desire, love, and realism are the heartbeat of the third edition of this popular, well-reviewed series. The authors are top writers in the erotica and erotic romance genres and they capture the essence of lustful loving in their passionate stories. From new lovers to married couples who have withstood the test of time and parenting, these are luscious, heartfelt tales layered with eroticism and emotion.
About the Book
I wrote this story nearly one year ago as of the time I'm posting this to the website. I had just finished revising, for the second time, a steampunkish novel–which is still sitting in a drawer awaiting another revision. I knew I needed a refreshing setting to cleanse my palate, and not just the switch from steampunk Victorian England to contemporary. As we were still in the cool grip of winter, I got to dreaming about sandy beaches and warm tropical winds. Bingo! Julia and Paul are two co-workers who had a close encounter just prior to leaving for St. Thomas as support for a big deal their company was finalizing. Julia freaked out a bit, and Paul is not about to let her toss him to the side without some kind of explanation. The romantic setting, even if they are there for business, helps to break down Julia's walls.
Read an Excerpt
By reading any further, you are stating that you are at least 18 years of age. If you are under the age of 18, it is necessary to exit this site.
She turned back around and ran for the resort, not caring that her heels echoed with every step. The conference center loomed out of the vegetation as she rounded the corner. Through the glass walls she could see her boss and their vice president standing near the door. She paused to catch her breath. She was a professional. Inner turmoil had no place in international business.
Closing her eyes, she pictured the centering image her yoga instructor had taught her. Five seconds and she had herself in hand, her decidedly non-work colleague feelings for Paul shoved into a tiny mental box.
As the door opened as she approached, arctic air spilled out, cooling her down even further.
"Julia, there you are! Did you have a nice little vacation?" Her vice president was one of those guys who had gotten to his level due to a good dose of charm. At least he was one of the few who was as willing to dole out credit as to take it for himself.
"Yes, sir. Thank you. I've got all of the figures for the Monteblanca side of the deal ready."
"Wonderful. Go on in and grab some grub. We're still waiting on a few players."
She nodded to her boss and did as directed. A tropical bounty was laid out on the side table. She picked at some fruit and eggs for protein. She glanced through the windows on the conference room door and saw Paul had arrived and been cornered by her boss. Taking advantage of his delay, she moved to the corner where another coworker already sat. As he was her counterpart for another section of this hydra of a deal, they compared notes as they ate.
Paul walked in to the room. Even though she tried to keep her body under control so not to draw his attention, her breath hitched. He was with her boss, so instead of making a bee line for her, he was herded to the buffet.
However, she'd underestimated him as he quickly filled his plate and distracted her boss by snagging another coworker before heading her way. There were no other unoccupied chairs in their corner, which was why she selected it. He made room anyway.
"Hey Dave. Do you mind if I sit next to Julia? There are some last minute projections I want to go over with her before we start."
"Sure, man. Hey, want to hit the driving range when we're done here?"
She bored a hole into the opposite wall with her gaze as she fought the compulsion to look at him.
"Maybe. I got in late last night and the jet lag's still killing me. I may go for a swim in the ocean. Got to take advantage of being put up in a beachside villa."
"Definitely. Catch you later. See you, Julia."
"Later, Dave." She waited until Paul sat and saw no one paying them much attention. "Did you have to sit there?"
He speared a piece of pineapple. Chewed it. "We need to talk."
Also available digitally as part of my self-published collection, Sweet Heat: Collected Stories, Volume 1.