Bound To Love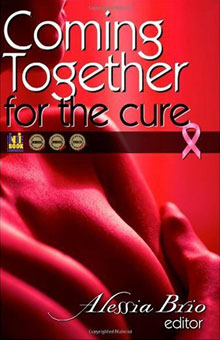 COMING TOGETHER: FOR THE CURE (anthology)
RTBookClub Top Pick for January, 2008! 2008 EPPIE Finalist! Indy Book Award Winner!
At some point, virtually everyone's life is touched in some way by breast cancer. Whether it's a friend or family member, or even yourself, the journey is one of courage and compassion. Phaze continues its tradition of fundraising for this cause with Coming Together: For the Cure, an anthology of quality erotic fiction edited by Alessia Brio. All proceeds from the sale of this volume will benefit the Susan G. Komen Foundation.
About the Book
I originally wrote "Bound to Love" as a submission for a now-defunct e-zine's Valentine's Day issue. I set the story in London because I had spent a semester in college in Norwich, England. While there, I learned first hand about a fun little custom for Valentine's Day. You have to figure out who your secret admirer is based on clues they leave in any present or card they give you. I knew I had to figure out a way to slip that into a story one day, and I finally got the chance to with "Bound to Love".
"Bound to Love" was originally published by a small electronic press. After that business relationship ended, Alessia Brio accepted it for part of the Coming Together: For the Cure anthology. All proceeds from the sale of this anthology will be given to the Susan G. Komen fund. What better way to support breast cancer research, than buying an anthology of lusciously hot stories?
Read an Excerpt
By reading any further, you are stating that you are at least 18 years of age. If you are under the age of 18, it is necessary to exit this site.
Soft light edged her reflection in the mirror. If her last miserable excuse of a boyfriend could see her now, he'd die of a heart attack. Her nipples were little points against the chemise, and she could see the dark hair at her center through the lacing of the knickers.
She lit the candles in her favorite scent of vanilla and ylang-ylang and placed them throughout her room. Pillows fluffed, she settled down onto her bed, setting her glass of wine down on the nightstand.
And for the final step, she pulled the book from the drawer of the nightstand and opened it to a random page.
I saw her for the first time tonight. In person. I've seen her in my dreams through the years. I feel like I've always known her.
She was the star attraction at Madame LaFleur's. Her name, Daniela.
Daniela wrinkled her brow and then shrugged her shoulders. Weird coincidence. Squishing down into her pillows, she continued reading.
I don't know what drew me to LaFleur's tonight. I was supposed to visit Estella at the house I've rented for her. Lord Begley promised that this was a not to be missed event, however. I've counted on his support for the latest bill, and needs must indulge him in his little entertainments.
I was interested, too, in seeing what a young lady fresh from the country looked like as I have not seen one in an age. The young women of Society are forever at turns calculating seductresses or missish little fussbudgets too intent on what they've spent at the milliners.
We went to LaFleur's and I suffered the usual round of birds singing and displaying their fancy feathers to my fellow compatriots. Soon though, LaFleur brought out Daniela.
I admit, I've been to auctions before, though I had never thought much of the fate of the women, gels really, who were the subjects of such intent interest. Virgins are too much trouble.
Daniela, though, took my breath away. I couldn't let any other have her. She was mine the moment LaFleur opened the curtains to where she was sitting.
I know she had been forced into that pose, but my prick ballooned to the point where I had to cross my legs to keep some semblance of restraint. Others were not so prudent. I knew who were to be my most ardent opponents in the bidding.
Daniela thought of what it would be like to be on display for a roomful of men. Heat flashed through her. All eyes were on her, ready to bid for their chance to have her. She squirmed on the bed. The thought of exhibitionism had never before turned her on so thoroughly and so quickly. Her nipples ached, and she wondered how on earth to get out the stain she was surely leaving on the knickers. She turned the page.
Also available digitally as part of my self-published collection, Sweet Heat: Collected Stories, Volume 1.