Duty and Desire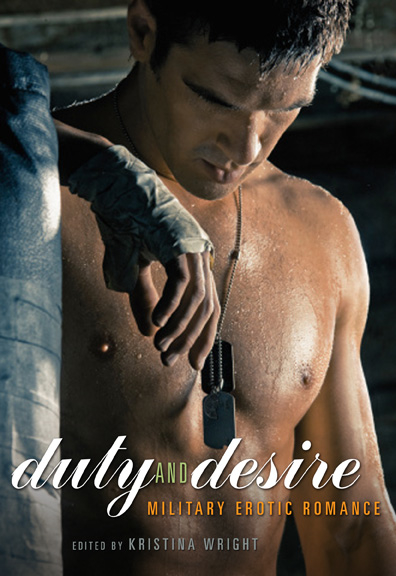 The only thing stronger than the call of duty is the call of desire! This anthology of military erotic romance serves up a team of hot-blooded men (and women) from every branch of the military who serve their country and follow their hearts wherever they might be stationed. When the mission is done, the unit is recalled or the ship pulls into port, they set their sights on a new target—the pursuit of passion and love. In and out of uniform, stateside and abroad, these military warriors meet passion and danger head on. All's fair in love and war—in and out of uniform. Edited by Kristina Wright, wife of a Lieutenant in the U.S. Navy, Duty and Desire includes stories of soldiers, sailors, aviators, Marines, Special Forces, Navy SEALs, Army Rangers, and many more. Uniforms have never been sexier!
With contributed stories by Delilah Devlin, Connie Wilkins, Shanna Germain, Craig J. Sorensen, Ericka Hiatt, Kelly Maher, Lucy Felthouse, Catherine Paulssen, Anya Richards, Sacchi Green, Elizabeth L. Brooks, J.K. Coi, Charlotte Stein, Christine D'Abo, Mercy Loomis, Lynn Townsend, Michelle Augello-Page, and Kristina Wright.
About the Book
Rarely do whole stories come to me in a flash, but my story, Homecoming, virtually did. I had known about the anthology, but the deadline had recently passed and I let it go as I didn't have any ideas. I was not about to scramble and put together a half-assed story just to submit something. Kristina put a call out on Twitter extending the deadline because she was in need of more stories. I passed the tweet along, but once again thought: "I have nothing even started, let alone fully written, and this is not enough time for me to come up with an idea, write it, and edit it." That night, as I was falling asleep, the opening of the story came to me like a movie playing along with the first few lines. Even better is I knew exactly how the story needed to progress and what the conclusion was. I dug out a notebook, wrote everything down and went to sleep. I think I may have even dragged out the laptop to send Kristina a tweet cursing her out because I'd gotten an idea which had woken me up (kind of) and would send it to her by the end of the weekend. She laughed, but I did it 🙂
Read an Excerpt
By reading any further, you are stating that you are at least 18 years of age. If you are under the age of 18, it is necessary to exit this site.
Time slid by in a pitch-black ooze. The distant ringing of her phone barely registered. Even if she had wanted to respond to the summons, her body had turned into a numb lump. A woman who had once prided herself on answering with a smile within two rings now wished the world would disappear into the black hole where her soul had once resided.
She curled up, back pressed against the sharp lower edge of her cabinets. The pain focused her mind for a moment, and she thought of the milk before remembering she'd moved the pan from the hot burner. Tears leaked down onto her arm. She thought of the first time she'd met David.
His smile, slow and serious, melted her heart. They'd run into each other at the embassy open houses. Twice in one night. She'd spotted him at Australia but had let self-doubt force her into letting the moment slide away. There was no way a man that magnetic would look twice at her. An hour later she'd been reaching for small weisswurst at Germany when she'd been bumped from behind. The deep voice expressing abject apologies sent a bolt of lust through her system. Even before turning to discover who the man was, she was wishing it was him.
It was.
She'd teased him about engineering the bump, and she'd gotten the smile in return. They'd spent that first night walking down Embassy Row to Dupont Circle and dancing until the wee hours of the morning. They'd eventually landed in the apartment she'd been renting at the time. Even now, in her paralyzing agony, her body responded to the remembered pleasure.
Also available digitally as part of my self-published collection, Sweet Heat: Collected Stories, Volume 1.