Family Jewels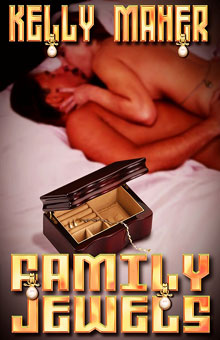 Amber Quill
September 28, 2007
**NOTE: This title is currently not for sale. This page is available for informational purposes only.**
Sasha Feodrovich needs a woman. Amalia Winston is the one for the job. With the ability and resources to get into places others can't, Amalia commands a high price. Money is no object for Sasha, however, but family on the other hand…
About the Book
"Family Jewels" was chosen as a winner of Amber Quill Press' 2006 Amber Heat Wave Contest. I even have the graphic as proof!
Getting down to brass tacks…or would that be handcuffs? hmm, ideas…"Family Jewels" came about because I was feeling stuck with my writing. Nothing seemed to be working for me and I hated what I was spewing out. I needed to get the juices really flowing so I challenged myself to a little experiment: noir voice. You know, Dashiell Hammett and "The Thin Man"? Rowr. And out sprung "Family Jewels". I hope you enjoy reading it as much as I enjoyed writing it!
Read an Excerpt
By reading any further, you are stating that you are at least 18 years of age. If you are under the age of 18, it is necessary to exit this site.
Somehow, I knew that the potential client listed as being due in any moment on my calendar would be a turning point in my career.
I sat back in my chair as he walked in to my office. My nipples peaked and my pussy lathered. It wasn't the suit emphasizing his broad shoulders. It wasn't the dark wavy hair gathered in a queue at the nape of his neck. Oh no, it was the look in his black as sin eyes that said he wanted to strip me naked and fuck me senseless.
"I've been told that you're the woman to see." A faint Slavic accent tinged his words.
I licked my lips and crossed my legs. His eyes dipped down following the movement of my skirt up my legs.
"It depends. What are you looking for?"
"A date."
I raised a brow. This man would never lack for female companionship. "Really?"
His smile curled the edges of his lips. "Let us say that I need the experience of a woman who can slip in, cloud the senses and get the job done."
"My fees are fifteen hundred a night plus expenses."
"Very well." He shrugged as if the sum were negligible. "I will send a driver to pick you up tonight at eight o'clock."