Feasting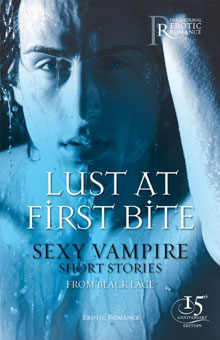 LUST AT FIRST BITE (anthology)
An arousing collection of short stories about the sexiest spectre of them all — the Vampire.The vampire's reputation has enjoyed a massive resurrection in fiction in recent years. Boosted by the popularity of True Blood and Twilight, the immortal bloodsucker has never been sexier or more perfect for erotica. Packed with stories from some of the best erotica authors around, Black Lace's anthology of vampire erotica promises to be chilling, entertaining and above all, sexy — it's what we do best.
Available in German as Bis ich dir verfalle.
About the Book
As with all of my short stories, Feasting was a bit of an experiment. I had heard the editor of the anthology was looking for darker stories. Since vampire literature is rooted in the horror genre, I decided to stick with a horror overtone to whichever story I ended up writing. Normally I have a horrible time with titles, but in this case the title came first. I liked the multiple ways the idea of feasting could be incorporated into a vampire story, especially if the main character was a chef. Enjoy!
Read an Excerpt
By reading any further, you are stating that you are at least 18 years of age. If you are under the age of 18, it is necessary to exit this site.
The Bavarian chalet-inspired outbuildings made their first appearance about a mile away from the main road. Set among the forest of maple and pine trees, she felt a little like Gretel or Little Red Riding Hood entering the forbidden forest. Glimpses of white trimmed with dark wood peeped out on the road ahead between rolling curves.
A flash of brown and white exploded out of the forest feet ahead of her and she slammed on the brakes. The deer's white rump disappeared into the greenery on the other side of the road as she fought to control the fishtail motion. Through grit and memories of her dad teaching her how to drive in Midwest winters, she stopped the car inches from slamming into a disturbingly solid tree. Air shuddered in and out of her lungs and her heart fluttered like the wings of a hummingbird.
Closing her eyes, she focused on easing her system down from the adrenaline rush. When she finally felt reasonably in control, she maneuvered the car back onto the road and stopped almost immediately. The promise of the outbuildings was more than fulfilled by the edifice gracing the clearing. Gingerbread trim emphasized the pristine whiteness of the wattle and daub walls. The sun glinted off of the mullioned windows. Etta lost a tiny bit of her heart.