Sweet Heat: Collected Stories, Volume 1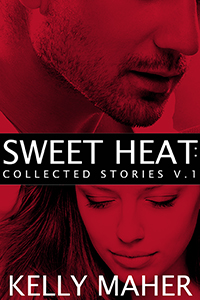 Sensuality comes in all shapes and sizes. Erotic and steamy romance author Kelly Maher brings together her previously published stories, and two previously unseen, for the first time in her Sweet Heat: Collected Stories series.
Volume 1 includes nine short stories–seven previously published and two new, and the novellette Amuse Bouche. The exploration of romance and love range in settings including libraries, secluded cabins, a tropical beachfront, and more.
Order from: Google Play, Tolino (Deutschland)
Contents:
1. Good Night (2004)
2. Bound to Love (2006)
3. Amuse Bouche (2011)
4. Homecoming (2012)
5. Beware the Bear (2013, originally published under a different pseudonym)
6. Closing the Deal (2014)
7. Notes on a Scandal (2014)
8. After Hours (2015, written 2004)
9. Overdue (2015, written 2012)
Ebook ISBN-13: 9780996847704