Sweet Heat: Collected Stories, Volume 2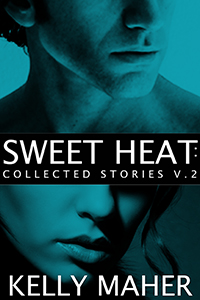 Sensuality comes in all shapes and sizes. Erotic and steamy romance author Kelly Maher brings together her previously published stories, and two previously unseen, for the first time in her Sweet Heat: Collected Stories series.
Volume 2 includes the novel, End Balance, where a woman still mourning the passing of her father must join forces with a business rival to unravel a case of deadly corporate espionage, and the short story Spring Storm where otherworldly forces make themselves known to a pair of potential lovers.
Order from: Google Play, Tolino (Deutschland)
Contents:
1. Spring Storm (2006)
2. End Balance (2009)
Ebook ISBN-13: 9780996847711