End Balance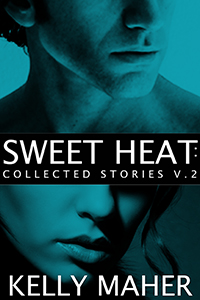 Originally published by Ellora's Cave, January 2009. Re-released as part of Sweet Heat: Collected Stories, Volume 2, November 2015.
Reaffirming her sense of life after her father's unexpected death, Raquel MacLendon loses herself in the pleasures of the flesh offered by a one-night stand.
Hayden Campbell goes to the wake to show his respect to a business colleague and instead finds the woman he had spent an amazing night with.
Raquel thinks Hayden's continued pursuit of her is only a business ploy, but when he gives her the exact kind of attention she needs, she can no longer deny the indulgence of being with him. The result of their exercises in trust becomes crucial when a business foe threatens not only their companies but Raquel's life.
About the Book
End Balance is the second novel-length story I've ever written. Back in 2004, I signed up for my third NaNoWriMo. This time I was absolutely determined to finish. It started out *much* differently than the way it is now because about 1/3 of the way through the first draft, I realized the original premise wasn't going to work at all. I've still got those scenes on my computer and I may rework them into a different story in the future.
This story is a "light" futuristic. Why "light"? Because I needed a special little toy to exist for this one scene and as the technology for it doesn't exist today…
Read an Excerpt
By reading any further, you are stating that you are at least 18 years of age. If you are under the age of 18, it is necessary to exit this site.
Raquel punched the dark-haired man in the nose, and grinned at the sound of cartilage breaking. The damned bastard would not stand down. He kept coming back for more. Two more shots to the face and a kick to the balls knocked him back five feet. If she could just get her hands around him, he'd think twice about messing with her and hers.
"Raquel! Enough! You're about to bust up a thousand dollars worth of good equipment. Rock, power down."
The man coming for her stopped and returned to stasis mode. She wiped the sweat out of her eyes and turned to where Jimmy stood at ropes. "Come on, Jimmy, just five more minutes."
The wiry little man poked at the air. "Five more minutes, girl, and I'm going to have to get another sparring dummy. If I have to do that, I'm charging it to your account."
Raquel laughed. "You know I can afford it."
He huffed. "Yeah, but I think you've got that poor thing pounded into submission already."
She looked back to where the dummy stood crouched, waiting for her. Glints of his TitaniSteel frame shone through the rips in his simulated skin. She sighed.
"Come on into my office, girl. You can tell Uncle Jimmy all about it."
Raquel shook her head. "I don't think so."
He climbed through the ropes and walked over to her. Throwing an arm around her shoulders, he hugged her to his side. "I know it's been tough, but you're doing good. Your dad would be proud of you."
She looked down at him, a shock of white hair falling across his navy eyes. "Would he Jimmy?"
He nodded so hard, she thought he could be a model for those weirdly popular bobble-head dolls. They just kept coming back every fifteen years or so. "He would, girl. He was always proud of you. Couldn't stop talking about what new trick you had gotten up to since he'd last been in."
Raquel let her head fall back and drew in a deep breath. She could taste sweat and the chemicals purifying the air on her tongue. She missed the cleaner air of her dig site in Scotland. Fighting this merger was taking a lot out of her. She wasn't cut out for this type of stuff. Give her the ancient past and fighting off tomb raiders any day of the week.
Stripping off the sparring gloves, she handed them to Jimmy. "Thanks for the offer, but I've got to get back to the office. Hayden the Despicable is due in at four."
Jimmy gripped her arm as she passed him. "You know, if you need something taken care of, anything, just let me know and I'll get someone on it."
Raquel's lips quirked up at the edges. Her dad had always told her Jimmy was one of the best go-to men in the city. He never failed in getting a job done. "Thanks, I appreciate the thought."
She headed up to the changing room and showered. Keying in her personal sequence, the spray system automatically adjusted direction and water temperature. Jimmy's place catered to few frills crowd, but he knew people weren't interested in the antique plumbing system experience in the showers. She was the only woman in at this time of day and she took the opportunity to strip down and shower in the open area. She squirted some body wash into her cupped hand. Building lather, she stroked her body. The freedom of this time of day exhilarated her. She massaged her breasts, nipples peaking. Her hands slipped down her stomach, soothing the muscles there. Shivers raced up her back. Dipping her fingers into her slit, she found the wetness waiting for her.
She drew some out and circled her clit. She leaned against the wall for support, the warm rain from the shower adding to the motion from her fingers.
She bit her lip and closed her eyes. Broad shoulders, a chest with pecs to die for, and a cock broad enough to split her appeared in her mind's eye. With his hands, his cock had to be that broad. She sighed. She imagined his wide hands tracing down from her breasts to where her fingers played with her clit. His rough calluses would touch off sparks.
She groaned. She wanted that cock inside her now. She plunged three fingers into her aching pussy. They weren't enough. They were never enough.
She pressed inward, pushing against her g-spot. She pulled on her right nipple with her other hand and shouted, her eyes flying open.
She slid down the wall. Water poured over her head. Pulling in air, her head dropped to her raised knees. She needed to get this out of her system. Get him out of her system.