Sweet Heat: Collected Stories, Volume 3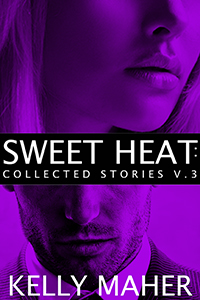 Sensuality comes in all shapes and sizes. Erotic and steamy romance author Kelly Maher brings together her previously published stories, and two previously unseen, for the first time in her Sweet Heat: Collected Stories series.
Volume 3 includes three novellas. A young woman fighting for Earth's future confronts the man she views as one of the destroyers of their environment, only to find he hides secrets from the world in Tera's Awakening. On a mission from a goddess, a man with a knack for women meets the one he cannot have in The Man from H.A.T.H.O.R. Two shadow fighters of crime see beneath each other's veil of secrecy in Cimmerean League: Revelations.
Order from: Google Play, Tolino (Deutschland)
Contents:
1. Cimmerean League: Revelations (2006)
2. The Man from H.A.T.H.O.R. (2006)
3. Tera's Awakening (2008)
Ebook ISBN-13: 9780996847728