Tera's Awakening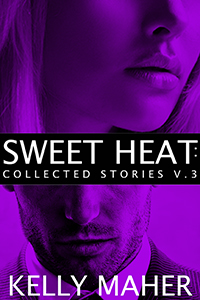 Originally published by Ellora's Cave, October 2008. Re-released as part of Sweet Heat: Collected Stories, Volume 3, December 2015.
In a world that is dying, Tera Fitzpatrick leaves her sanctuary for one last mission to attempt to save the final forest on Earth. She knows it's a fool's run as she has gone up against mining magnate Darius Hadides before and lost.
Darius has his own reasons for obtaining the Torgon Forest, and allowing Tera to breach his company's security. His immortal father Hades, king of the Underworld, set events into motion that Darius has spent millennia trying to correct. Tera is the key.
Now that a prince of the Underworld is ready to claim a woman of the earth as his bondmate, the Earth's future will be decided.
About the Book
Tera's Awakening is part of the Dark Pantheon series that my fellow Deliciously Naughty Writers and I dreamed up at the beginning of the summer in 2007. We wanted to play around with the myth of the vampire, and since Ancient Greek mythology is what people tend to associate with Western Culture (no diss to the other mythological traditions!), we brainstormed the Dark Pantheon. Children of the gods who inherited their progenitor's powers to a degree.
I've always been fascinated by the myth of Hades and Persephone. I think Hades is the reason why I find darker edged men so hot 😉 As Persephone is the daughter of a goddess herself, my character in the Dark Pantheon couldn't be their child, but he could be Persephone's in spirit.
Since I went with the family of one of the darker gods, I had to think of an appropriate setting. As I tend towards post—or near—apocalyptic visions when I write futuristics, I thankfully didn't have too much of a challenge. I hope you enjoy Tera's and Darius' story as much as I did writing it!
Read an Excerpt
By reading any further, you are stating that you are at least 18 years of age. If you are under the age of 18, it is necessary to exit this site.
"Tera, there is something of great value in the land and that is all I can share with you at this point. However, if you would be amenable to spending time with me at my estate, I might be persuaded to share with you my reasons."
Tera froze. "What are you implying, Mr. Hadides?"
"Only that I would greatly appreciate the favor of your company. I've been aware of you for a number of years, Tera, but this is the first chance I've been graced with your presence. I would like to extend our acquaintance."
She searched his eyes and found her answer there. He wanted to fuck her. Pretty words couldn't hide his intent. And his intent blazed like the sun from his dark as sin eyes.
"I'm afraid I won't be able to accompany you, Mr. Hadides."
"Darius, please."
"No." She could see no was not a common response to his…requests.
"I must insist, Tera. Otherwise, my employees will have my orders to commence their deforestation efforts the moment you walk out the door."
Tera surged up, fury igniting throughout her system. "This is blackmail, Hadides."
He waved a hand in the air. "If you must. I would prefer to call it business and pleasure. My pleasure and your business."
She bared her teeth at him, trapped. Katlyn would not let her rest if she were to come back defeated. Tera loved Katlyn, but Katlyn was willing to pay any price for her cause and could not understand those who would rather live to fight another day. If this is what she needed to do to spend her remaining days in peace in her sanctuary, then she'd do it and be done.
Darius saw the decision warring on her face. When the disgusted look in her eyes won out, he forced his facial muscles into stillness so as not to grin.
"Very well. I must be able to leave by tomorrow afternoon, however. I have…people waiting to hear from me."
"You will be able to contact whoever you want, whenever you desire. When you leave my estate will be entirely your decision. I do hope I can persuade you to extend your stay with me, however."
She snorted.
Why a woman who obviously didn't care how she appeared to him would appeal so strongly was a phenomenon he looked forward to exploring. Tera Fitzpatrick had been a steady thorn in his side for years, but he'd long ago inured himself to irritations, and had ignored her. For the most part. Every once in a while he caught her picture on the news reports and her looks intrigued him. Soft sable hair curled at the edges of her sharply defined jaw. Eyes the color of the darkest sapphire met the censure of the world head on. Her passion for the beliefs she spoke out on excited him. He'd wondered at the strength of his attraction since he first saw her. Wondered if, even through the distance of technology, he'd finally caught sight of his bondmate. Now he mused, would she accept such a pairing? Run screaming into the night? Or strike him dead as the avenging angel she could be?
What would it be like to harness fire such as hers? This world was slowly dying, thanks to that bitch Demeter, and most of the planet's population had died off, relocated to other planets or eked out a minimal existence on what was left. Those who had remained seemed to pass through their lives in a catatonic trance, taking one plodding step at a time until they died and were delivered to his father's realm.
Except for this woman.
Her jaw firmed as she jutted it out. "Let's get going."