The Man from Hathor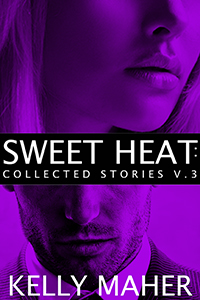 Originally published by Phaze, 2006. Re-released as part of Sweet Heat: Collected Stories, Volume 3, December 2015.
A servant of the Ancient Egyptian goddess Hathor for four millennia, Akhet-en's continued survival depends on his rescuing an ancient set of papyri from pre-eminent Egyptologist, Dr. Eloisa Brown.
Eloisa figures a one night stand with a hot hunk is just one more step on the road to recovery from a crushing divorce. She just doesn't expect him to be as old as the antiquities she studies.
About the Book
When I first started this story, I was trying to do a historical piece, but it just wasn't working. Now, I have to confess, I have a thing for The Mummy. Brendan Fraser looking all hot and tough. John Hannah sexy with his one-liners. Arnold Vosloo's steaming bad guy vibe. One month, I watched it every day, at least once a day. I wanted to do a story with Ancient Egypt. Luckily, I also had my semester of Egyptology to fall back on for research material. Throw in a few Ancient Egyptian gods, and their feuds and The Man from HATHOR was born.
Read an Excerpt
By reading any further, you are stating that you are at least 18 years of age. If you are under the age of 18, it is necessary to exit this site.
Thunder boomed outside and she soon heard the rhythmic beating of rain on the roof. She hadn't thought thunderstorms were due, but then she hadn't actually listened to a weather report in at least a week.
She peeled off the next leaf.
Her perfumed thighs beckon me,
Her breasts fill the cup of my hand like fine apples,
Within her body, the route to the heavens.
Only she comforts me in distress,
This gift from the great goddess, Hathor,
I praise her with my woman.
In war I dream of her lying with me,
Comforting me with the pleasures she gives,
My soul bonded to hers.
The vision of a man, muscles heavy from war, cuffs of gold banding his biceps, his jet-black hair braided back, features sharp like a hawk, filled her mind. Eloisa drew in a shuddered breath. Heat coursed through her system. Looking down, she saw her nipples had beaded against her thin t-shirt. She crossed her legs and felt the slick glide of juices in her core.
Good god, she was aroused. She blinked. This was not the first time she'd read the erotic poetry many ancient Egyptians had written. But, she'd just read it. Not translated it. And then the image…