The Bridesmaid and the Hurricane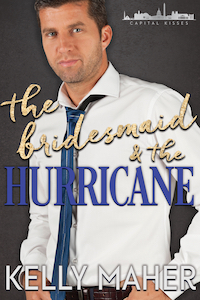 A one-weekend stand over a year ago, and now they're coworkers…
Being a woman in TV is hard enough, but when the boss is trying to derail Radhika O'Leary's career from behind the scenes, she has to make sure every aspect of her work—and her life—stands up to scrutiny.
Of course, the double standard is alive and well and Malcolm Jones, the broadcast meteorologist known as "Colm" to his friends and "The Hurricane Hottie" to his fangirls, knows that fame can hurt just as much as it helps. When Colm moves to DC, he's excited to work with Radhika—her professional reputation is sparkling, and so are the kisses they shared that one weekend over a year ago when he was in town covering a blizzard.
But when Radhika is paired up with Colm for a project, all she sees is a looming storm over her carefully constructed career. Sparks still fly between the two journalists, and if they're not careful, lightning might strike and alter the course of their lives forever.
Related books:
Blizzard Bliss (Prequel short story)
Ebook ISBN-13: 978-0996847742
Trade paperback ISBN-13: 978-0996847759
Release date: July 4, 2017
Buy print from The Ripped Bodice
Buy from Google Play
Buy from iBooks
Add to Goodreads shelf
Printable flyer to give to your library or local bookstore for ordering or Request via Overdrive
Reviews
"A smart and engaging romance, with a sprinkle of office politics and a backdrop of the nation's capital thrown in for good measure. Spend some time with this quick and easy hot-as-summer read." – Library Journal
"The Bridesmaid and the Hurricane is a delightful read with a strong, confident and capable heroine." – Romance Novel News
Excerpt
Colm leaned into Radhika and she shivered at the feeling of him so close, even if he was fully clothed. "Are you guys out celebrating or something? Stacey's email only said that you'd be here and I was welcome to join you."
"Stacey's play opened tonight. It's the first one she's authored that's been produced."
Colm leaned around her and clinked his bottle against Stacey's. "Congratulations!"
She looked confused for a moment and then grinned and clinked her bottle back. "Thanks."
He sat back and stretched his arm along the back of the bench. He wasn't touching her, but the feeling of being enclosed by his heat brought back delicious memories.
They spent another twenty minutes chatting until Marcus pulled his phone out of his pocket. He smiled and answered. "Hey, baby. Yeah, sure. Colm's here. Okay. See you in fifteen." He returned the phone to his back pocket and stood up. "Sorry, ladies, Colm. Kari wants me to stop at the store on the way home. My daughter's got a bit of a fever, and they've cut their TV night short."
They all made consoling noises and Colm stood as well. His fingers brushed against the back of her neck as he did so. Radhika shivered. Watching him, she couldn't tell if it had been a deliberate move or not. Probably not, but she had the sudden urge to fan herself. Colm and Marcus did some complicated male parting ritual and Marcus headed out. Colm glanced at the three of them and smiled. "While I'd love to stay later and have all of you to myself, I have to head out as well. See you tomorrow afternoon, Radhika."
She waved. "Anything I should bring?"
"Just yourself, but if there's some drink you particularly like, some of that."
"All right. See you tomorrow."
He strolled over to the bar and had a conversation with the waitress. She cashed him out and he signed the slip. He waved to them once more before heading up the stairs.
Both Jorie and Stacey waved their hands in front of their faces. It was Jorie who spoke first. "Hurricane Hottie indeed. He can blow me away anytime."
Radhika glared at her. "Jorie."
"What? I'm only stating the truth. As soon as you're done with him, pass him over my way."
"If you weren't all the way over there…"
Jorie smiled and waved at the waitress to get her attention. "What? You'd kick my ass? Good luck with that."
While Jorie had been out of the military for a few years now, she'd kept her fitness up. If you were walking down a dark alley at night, it was Jorie you'd want at your back. The waitress got another round for them, and when she delivered their drinks, she asked, "This is a fresh start. Want me to still split the tabs?"
They all froze. Radhika was the first to put the pieces together. "Did he pick up all of our tabs?"
"Yep, except for the one round of writer girl's here that was on the house. Nice guy."
"Yeah. He is. Thanks. If you could split them, that would be great."
She nodded and headed back to the bar. The three of them shared a look. Their bills hadn't exactly been cheap. When they'd first arrived, they'd done a couple of shots in celebration, and had kept the buzz going with the beer. Stacey was the first to break the silence. "You need to keep that one."
"He's not mine."
Stacey and Jorie glanced at each other and then turned their gazes on Radhika. They both burst into laughter. "He is dangling on your hook. He's yours if you want him."
"Please. We slept together once."
Stacey's arched look was worthy of being on one of those period British shows.
"Fine. Two nights. That's it. If he'd wanted it to be more, he could have called me. I bet he's been bedhopping his way across the country since."
Jorie leaned forward. "Tell Dr. Jorie all about it. Were you put out that he didn't call?"
"No! No. I'm an adult and I could have called him, too, if I wanted. I didn't."
Stacey rested her chin on her hand. "Why didn't you?"
"Because it was a one-night stand." Of course, the music would cut out at just that moment.