The Sexy Librarian's Big Book of Erotica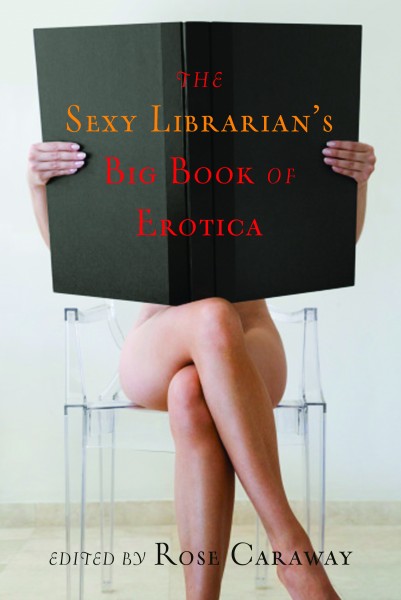 Indulge Your Literary Lusts
Imagine a library—a very special one with velvet chairs and fine-grained bookshelves, run by a librarian whose only concern is pleasing her patrons. In fact, this sexy librarian will stop at nothing to service her readers. To fulfill her role, she has lovingly collected a vast and varied set of stories guaranteed to satisfy every lust, literary or otherwise.
The Sexy Librarian's Big Book of Erotica bursts at the binding with amorous archives and bibliophilic bliss. A veritable dictionary of desires, it includes stories by top eroticists Rachel Kramer Bussel, Janine Ashbless, Tamsin Flowers and Salome Wilde, as well as the sexy librarian herself, Rose Caraway. You'll be amazed at what she has in circulation, just for you. Pull up to the carrel, baby.
About the Book
This story has an interesting genesis. Rose contacted me to see if I'd be willing to contribute a story to the anthology. I was definitely willing, but I wasn't sure if my schedule would allow me the time to generate an idea, write the story, and edit it. I let the idea of the anthology and what Rose was looking for brew in the back of my mind as I was working on the first draft of another project. On the weekend I designated for writing this story, I was ready to go. There are some aspects to this story that you wouldn't find in your medium to large academic libraries these days, or even in some small ones, but this is how certain services have worked in the past, so I ran with it 😉
Read an Excerpt
By reading any further, you are stating that you are at least 18 years of age. If you are under the age of 18, it is necessary to exit this site.
The first note appeared with the photocopy of an article from 1853 discussing the fallout of an affair between an aristocratic lady and a married minister in England's Exchequer office. Pale lavender pages scrawled across with dark purple ink were interfiled with the black and white pages.
It has been too long since I last saw you. You rarely notice me, but every time we meet, I find that I cannot tear my eyes away from your features. Each night after one of our timeless, and yet too short, encounters, I dream of you. I wonder what it would be like if our hands brushed. The electric feel of skin against skin, a physical connection not to be denied, the knowledge of what could be if more than a square centimeter of our individual bodies met together. Would it be glorious, this conjoining? Disappointing? Have I built you up too much in my own mind? To the point neither you or another man could meet the high standards I have?
Friends tell me I'm too picky. They don't know the true reason: I'm afraid. Afraid of my dreams being met and exceeded. Afraid of my dreams being too lofty. How would you counsel me? Your intelligence shines bright in your eyes every brief moment we have together. It is your quick mind and wit which first attracted me, I must admit. I've never understood the predilection of my friends for fine features without substance behind them.
My fondest dream is one where we meet, surrounded by other people, and you see me, truly see me and wake as if from an enchanted sleep. You clasp my hand in yours and declare the need to whisk me away from the crowd to learn more about me. We leave everyone behind, ignoring the whispers building around us.
We find a secluded room and there, we begin to learn each other. The soft touch of lips, fingers. Exploring, discovering, uncovering. Soon, the crowd refuses to be rejected and comes to claim us once more. We are separated, but all I can feel are your hands upon me. Learning my curves, my secrets.
Gasps fill the air around me as I cannot resist remembering, recreating the way your hands moved across my skin. I need more of you. More time. More hands. More cock.
Also available digitally as part of my self-published collection, Sweet Heat: Collected Stories, Volume 1.